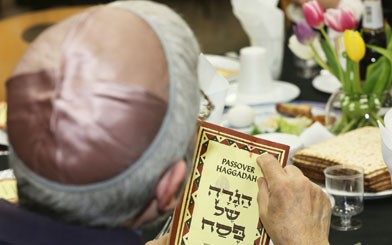 In a sign of the time of Coronavirus, where entire countries and cities are social distancing to stem the spread of the pandemic, a group of senior Orthodox rabbis in Israel gave special permission, given these emergency circumstances, for people to use Zoom teleconferencing for Passover seders. The caveat is to turn on devices and begin the Zoom session before Passover begins. Even so, this seems significant because in the Orthodox tradition, use of electronics is typically prohibited on holy days.
Their reasoning: to connect the elderly and their families who they are unable to join for the holiday ceremony because of social-distancing regulations. The rabbis further noted the exception, only for the Passover seder, was important "to remove the sadness from seniors and the elderly and to give them motivation to keep fighting for their lives, and to prevent depression and mental weakness which could lead them to despair of life," according to the group's quote in a Jerusalem Post article.
On the flip side, a group of Orthodox rabbis representing Tzomet Institute disagreed with the ruling, according to an article in Arutz Sheva (7) Israel National News. Tzomet Institute specializes in customizing technological and electronic appliances to comply with Jewish law.   
In our own local community, many synagogues are planning to conduct Passover seders by Zoom. Many of these congregations have already been conducting Shabbat services, daily minyans, and even shiva minyans -- not to mention Torah study, discussion groups, and more -- by Zoom, for more than a week now. 
To connect with these opportunities and more of Jewish Life Online, and for tips on using Zoom, see our Coronavirus/COVID-19 web page. 
Please know, during this time of social distancing, Jewish Federation is here to help keep the Jewish community connected and cared for. If you or someone you know is in need, please call us at 732.588.1800.