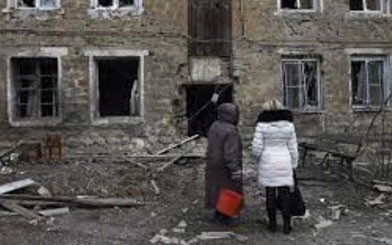 This update on Jewish Federation and partner response to the Russian government attack of Ukraine was issued March 1, 2022, 2:05 PM by Jewish Federations of North America. READ TODAY'S UPDATE.
Six days into the Russian invasion, we salute the heroic and tireless efforts of the valiant professionals at The Jewish Agency for Israel, JDC, and World ORT and other organizations who are acting as the long arm of our Federations delivering critical assistance to the Jewish community in its hour of need. We invite you to watch watch this moving video which provides a glimpse into the mood on the ground.

In an inspiring show of generosity, Jewish Federations across North America and their donors have already committed millions of dollars for Ukraine aid. Thank you and please keep the momentum going. If you haven't already, please make a contribution for Ukraine aid. A generous donor in the heart of NJ has offered to match -- dollar for dollar -- the first $25,000 donated. !00% of all Ukraione donations go to aid initiatives.  

The news from Ukraine remains alarming, with heavy bombardments continuing and hundreds of thousands of people displaced. The situation is constantly evolving and new needs are emerging.
Today's bombing of the Babyn Yar Memorial is a stark reminder that among those suffering are Holocaust survivors who have lived through the horror of war before. As we embrace the Ukrainian people in their hour of need, we must also continue to honor and protect the memory of the 33,771 people murdered by the Nazis at Babyn Yar over two days in 1941. We pray that all Jewish communities and other civilians in the region remain safe.
For up-to-date information on the war in Ukraine, as well the activities of Federation's core partners on the ground, we invite you to read READ TODAY'S UPDATE.
---
BACKGROUND ABOUT JEWISH FEDERATIONS' DECADES OF WORK IN UKRAINE
For generations, Federations have and continue to be the foremost partners to Jews around the world.
Through the Jewish Agency for Israel, we bring Shlichim to Ukraine, run Sunday programs, bring Ukrainian youth to Israel for immersive programs, and support the aliyah of Jews.
Through our partners at the JDC, we support multiple Hesed centers across 1000 locations, supporting the most vulnerable people of Ukraine. We run JCCs and Jewish youth programs to help younger generations reimagine Jewish life where it once was all but decimated.
And through World ORT, we've played an important role in the renewal of Jewish life through Jewish day schools, vocational training, and more.
All of this work happens day in and day out with help from Jewish Federation supporters. 
The estimated 200,000 Jews living in Ukraine have been profoundly affected by the political and economic instability that have wracked the country. Thousands are trapped in conflict zones in the east. Thousands more have fled the fighting. Federations are planning to allocate millions of dollars to our partner agencies on the ground. But the urgent needs continue.
Immediate and short term needs already total $20 million and include:
Helping people make Aliyah to Israel 
Securing the local community and its institutions
Maintaining critical welfare services
Assisting internally displaced people in multiple locations
Launching an emergency hotline
Securing temporary housing for people in transit
Purchasing satellite phones to maintain communications across the region
Securing five Jewish schools and training staff to manage crisis needs