Culminating a year of learning about and engaging in tzedakah, graduates of the Jewish Federation's JTeam Teen Philanthropy program presented checks to grant recipients and shared their insights about what giving back means to them and to the entire community. JTeam Advisor and Federation board member, Linda Benish, and fellow Federation board member, Marlene Herman, addressed the teens, the teens' family members, and representatives of organizations receiving grants, attended the meaningful occasion. JTeam is one of the many ways the Jewish Federation engages young people to nurture their connection with Jewish community and values and to cultivate commitment, from a young age, to tzedakah and tikkun olam. See photos here.
Grant recipients included:
 
•
Team-5 Medical Foundation -- a non-profit veteran foundation that provides medical care in the most overlooked remote areas of the world.  
•
The Lone Soldier Center in Jerusalem, built in memory of Michael Levin, an American soldier in the IDF who was killed in action in the Second Lebanon War.     
•
JCC of Staten Island's Camp Sunrise – for children with cancer and their siblings offered free of charge, attended by children from throughout Monmouth and Middlesex counties. Camp Sunrise helps children with cancer reclaim simple childhood pleasures while still allowing each child to continue with treatment.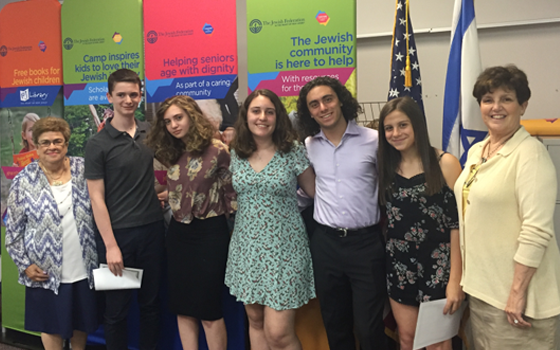 Left to Right: Linda Benish, Aiden Wechsler, Hannah Finkelshteyn, Samantha Ginsberg, Ethan Moss, Sarah Silver, Marlene Herman