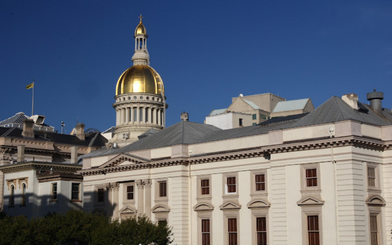 On December 1, 2022, Jewish Federation in the Heart of New Jersey testified in front of the NJ Senate Education Committee in support of bill, S3145 aimed at improving Holocaust and genocide education in NJ public schools.
The bill, which "requires Commissioner of Education to distribute survey to school districts regarding instruction on Holocaust and genocides" -- an important first step in the process, was passed by the Committee.  
Holocaust and genocide education is mandated in the state of NJ, however, there is no uniform structure or set curriculum. Complying with the mandate ranges from assigning a book, offering an elective course, or teaching as part of the World War II history unit.
In July 2022, members of Federation's Jewish Community Relations Council (JCRC) and Governor's Council met with NJ Senator Vin Gopal (NJ-11), NJ Senate Education Chair, to brief him on Federation's work addressing antisemitism, including needs and opportunities to improve the NJ Holocaust education mandate.
As a result, NJ Senate bill (S3145) and an identical companion bill in the Assembly (A4720) were introduced. 
The JCRC continues to work with Sen. Gopal's office on further steps, and coordinate with the NJ Commission of Holocaust Education to work on the survey as well as introduce a new Holocaust and genocide curriculum for students in elementary and high school.
For more information about the JCRC, visit jewishheartnj.org/jcrc