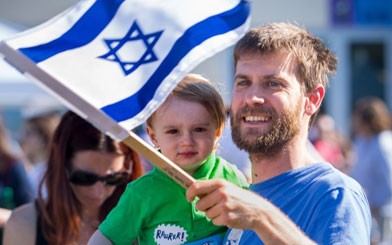 Israel Independence Day in 2023 marked 75 years since the creation of the Jewish State. People around the globe have turned the milestone into a year-long celebration of all that Israel means and all that its people have contributed to the world.
Jewish Federation in the Heart of New Jersey is delighted to recognize the organizations in Monmouth and Greater Middlesex counties who hosted and conducted programs for the entire community to celebrate 75 years of Israeli independence.  
Federation is proud to have sponsored(*) many of these, making Israel@75 inclusive and meaningful to so many in our community.
Highlights, to date, have included:
The Future of Israel-NJ Economic Development and Business Relations (*)
New Jersey and Israel have long-standing partnerships fostering economic, scientific, educational, and cultural ties; the State of Israel is one of New Jersey's most important trading partners. Jewish Federatin brough together a blue ribbon panel to discuss what the future holds for Israel/NJ economic development and business relations, including how Israel's evolving regional relationships may open up new opportunities for Israel and its partners. Thank you to sponsors: DK Solutions of East Brunswick and Monmouth Reform Temple.
Jewish and Christian Communities Unite
Christians from the faith community in the New Brunswick, New Jersey area came together for New Jersey Celebrates Israel at Abundant Life Family Worship Church. Eagles' Wings, Bishop George and Pastor Mary Searight, and the Abundant Life Family Worship Church hosted this powerful night of solidarity with the Jewish people and celebration of the nation of Israel!
In Our Own Hands
The JCC of Middlesex County Celebrated Israel@75 with a showing of the moving documentary "In Your Own Hands," the story of a Jewish Brigade that served in WWII. 
Let There Be Water
The JCC of Middlesex County hosted a conversation with Seth M. Siegel, author of the award-winning, critically acclaimed New York Times bestseller "Let There Be Water: Israel's Solution for a Water-Starved World."
PJ Library Pretend Trip to Israel
The Hebrew Academy hosted a pretend "trip to Israel," complete with passports, an El Al flight, and visits to Masada, Ein Gedi Animal Reserve, the Negev, Jerusalem, and more with an interactive scavenger hunt, birthday cake, and more.
Neve Shalom's Israel Fair
Congregation Neve Shalom Religious School invited the community to celebrate this miraculous milestone together with Israeli cuisine, virtual tour of Israel, Hebrew music, pin the tail on the camel, build the Kotel one stone at a time, petting zoo, pony rides, flag making, face painting, sand art, and jewelry making.
Current Issues in Israel and the Middle East
Congregation Neve Shalom hosted The JCC of Middlesex County's presentation with syndicated columnist, Micah Halpern.
Facing West: The True Story of One Family's Journey from India to Israel
The JCC of Middlesex County  presented author, singer and educator, Rahel Musleah, sharing the true story of her aunt and uncle who made aliyah to Palestine from Calcutta in 1945 and lived through the establishment of the State of Israel.
Yom Hazikaron & Yom Ha'Atzmaut (*)
Paying Tribute to Israel's Heroes and Celebrating Israel's 75th Independence Day
East Brunswick Jewish Center presented "Judicial Reform Legislation Controversy" Explained followed by a Memorial Service to honor all who served in the IDF then a Yom Ha'Atzmaut celebration and dinner with Israeli folk dancing. 
Yom Hazikaron Service followed by Yom Ha'Atzmaut Celebration (*)
Congregation Torat El hosted the entire community with Israeli food, Israeli music and Israeli dancing
Yom Ha'Atzmaut Luncheon and Musical Performance (*)
The Jewish Community Center of Middlesex County presented "To Israel with Love" by Naomi Miller
Temple Emanu-El
A celebration of Israel's 75th birthday with dinner and Israeli dancing 
The Current Crisis in Israeli Politics and Society
Perrineville Jewish Center presented Gershom Gorenberg, American-born Israeli author and analyst, speaking on Israeli politics, the climate today, and the challenges facing the nation politically and socially.
PJ Library in the Heart of NJ Celebrates Israel's 75th Birthday
Temple Shaari Emeth hosted a celebratin with games, arts & crafts, music, and snacks 
Yom Ha'atzmaut Shabbat (*)
Temple Beth Ahm hosted a special Celebrate Israel Shabbat service with speaker and a luncheon in honor of Israel's 75th birthday. 
PJ Library Birthday Bash for Israel (*)
Congregation B'nai Tikvah welcomed children 2-8 and their families for activities in honor of Israel including an "archeological dig," Dead Sea experiment, "leaving notes at the Western Wall," Israeli food tasting, Israeli-themed arts & crafts, making cards for IDF soldiers, PJ Library book nook, airbrush tattoos, bounce house, balloon artist, birthday cake for Israel, photo booth, and more!
Israeli Fair (*)
Congregation B'nai Tikvah followed its PJ Library bash with a fair featuring food and Israeli items for sale, Israeli Advocacy information, and lots of family fun. The celebration culminated with a dynamic Israeli musical experience concert of the music of Shorashim, featuring Israeli artist, Magda Fishman.
Humans of Israel
The Jewish Community Center of Middlesex County presented Erez Kaganovitz offering a fresh look at what the Israeli story is all about by showcasing Israel's diversity, multiculturalism and vibrant civil society through his photojournalism. 
A Weeklong Celebration of Israel
Monmouth Reform Temple presented:
Dena Dubofsky-Blum, Assistant Director of American Jewish Committee - NJ
Max Kleinman, former CEO of Jewish Federations in north Jersey and Minneapolis among numerous other Jewish organization roles
Family Shabbat Service led by 4th grade religious school class with guest artist Noah Chase followed by a celebration of Israeli food, wine and music 
Almost Lag B'Omer Picnic and BBQ (*)
Part of Anshe Emeth Memorial Temple's series  of events celebrating Israel@75, the entire community was welcome to celebrate our love of Israel and this special moment in history together at Johnson Park with crafts, games, and more.
Spring Concert Celebrating Israel
Anshe Emeth Memorial Temple's special celebration of Israel's 75th Anniversary with its choirs and bands, from its Junior Choir, teen Jew Directions, and graduating seniors to Kol Emet - the Adult Choir and Piano Dave Schlossberg, all beginning with Havdalah and concluding with a dessert reception.
An Evening of Solidarity with the IDF Soldiers
The Jewish Community Center of Middlesex County presented a concert by the IDF Musical Ensemble founded in 1948, a group of young soldiers using their service to spread joy and encouragement around the world through song and music.
Celebrate Israel Parade (*)
The entire community joined to celebrate 75 years of Israeli independence and show support for the Jewish homeland while cheering and marching through the streets of New York City. 
Songs of Israel with Makhelat Hamercaz
Neve Shalom hosted Makhelat Hamercaz, the Jewish choir of Central NJ, for a joy-filled evening of songs from or about Israel and honoring the choir's outgoing president, Roz Shaw for many years of dedicated service.
Israel@75 Fair (*)
Neve Shalom's program featured a fair of Israel-oriented activities including dancing and a showcase of items and foods reflective of Israeli arts, foods and culture.