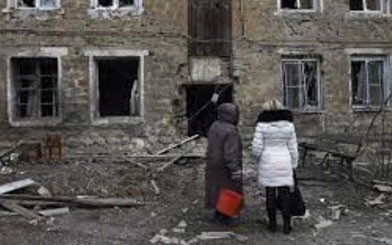 On Tuesday, April 14, 2015, International New York Times published an article titled "Aging in Ukraine, without a safety net; Government's isolation of rebel areas blocks medicine and pensions.'' It detailed individual stories about what life is like for people in the Ukraine today who are unable to access the medications they need.
Our partners, such as the Joint Distribution Committee (JDC), work to deliver these types of medications to their clients in war-torn Ukraine, and this work is largely funded by Federations' Annual Campaign contributions and Ukraine Emergency funds. So, we asked the JDC to comment on the article. Below is their response:
The situation with medicines is indeed very hard in the self-proclaimed republics...
 
It especially concerns state hospitals and pharmacies, which used to provide so called social medications to pensioners at lower prices, as they were subsidized by the government of Ukraine. Since all the state services were withdrawn from those regions, such help ended too.
 
Commercial pharmacies working with Ukrainian suppliers face difficulties too as it is hard to get the deliveries from Ukraine government controlled areas to the separatist controlled ones. What aggravates the problem even more, is that generally the people do not have money to purchase even the available medications as the prices are a several times more expensive than usual.
 
JDC supports the two Heseds working in Donetsk and Lugansk cities who also provide support to clients living in the peripheral locations with services too. The Heseds provide assistance via bank cards and/or vouchers, which can be used with certain suppliers of food and medications (with whom we sign contracts). Our management there has succeeded in finding the food and medication suppliers who still can deliver the goods into the separatist controlled territory, either from Ukraine or from Russia. Today, we work with a company, which is able to deliver medications to all locations in both Donetsk and Lugansk regions. This fact combined with additional financial support that JDC is providing to our clients enables them to receive the necessary medications even in these hard times.
 
The needy Jews remaining in the conflict zone are eligible for $25 per month for purchase of medications, plus there is an SOS program, through which anyone eligible can receive additional support in medications and medical operations, or other emergencies.
 
Thus, in January 2015, 533 clients received medications assistance and 293 - SOS assistance (826 people in total); in February, 699 received medications and 392 received SOS (1,091 people in total); in March 2015, 614 clients received medications and 370 received SOS assistance (984 people in total) in the separatist controlled areas.
 
So, the support we are providing thanks to support of Federations and others is indeed life-saving for people in the conflict zone.