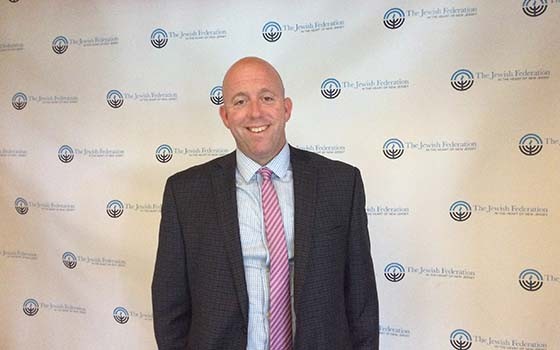 The following blog first appeared Friday, March 16, as an email update from Keith Krivitzky, CEO, the Jewish Federation in the Heart of New Jersey.
Dear Friends and Colleagues,
I know that pieces of this were shared in a community update a few weeks ago, but here is a revised and tighter version…highlighting why this component of the work we do is so critical. Good stuff happening, and it should be clear why we need to step in and do our part.
Responding to Today's Crises
The Jewish Federation works to ensure the well-being of the entire Jewish community and is on the front lines responding to crises that affect our community and put a vibrant Jewish future at risk. What follows are highlights of 3 key issues and what we are doing to make a difference in these areas.
1) You may have seen recent news stories about growing anti-Semitism. It's hard to escape the fact that hate incidents and bigoted attitudes are increasing not just directed toward Jews, btw and the key question is what to do proactively to counter these trends. The Jewish Federation supports several partners locally that work to combat hate, from the Center for Holocaust Human Rights and Genocide Education (Chhange) to the Daniel Pearl Education Center. We've sponsored innovative educational initiatives, such as a community-wide training with the NJ State Attorney General to raise awareness of how to fight bias crimes and an amazing program in partnership with Chhange and the County Prosecutor's Office to bring law enforcement officers to the US National Holocaust Museum in Washington DC to better train them to deal with these issues. We are also supporting the Pledge for the Other campaign, asking individuals and groups to speak up when others are targeted. But there's more to do and we are the lead organization on the ground in our area addressing these issues.
A particular example of anti-Semitism has been brewing at Rutgers University with several professors making bigoted and hateful statements. In cooperation with our campus partners, we have stepped up to respond and are urging Rutgers leadership to take this issue more seriously. While there has been some responsiveness, we believe they need to take more ownership of this issue and do more.
2) We have taken the lead in helping our community be safe and more secure. Our Security Initiative in the past two years has had a significant impact in enhancing the safety and preparedness of our community. We have encouraged local Jewish organizations to put together security liaisons, implemented a specialized communications network to respond quickly to security concerns and alerts, organized training sessions in key risk areas throughout the year, and maintained high level contacts among local law enforcement so that we can be as prepared and responsive as possible. Our Security Committee, made up of professionals with significant experience in the law enforcement and security fields, has worked with dozens of partner agencies to do security assessments. Most notably, thanks to concerted efforts on the part of the Jewish Federation, we have helped secure more than $1 Million in grant funding for security upgrades in each of the last two years. And the Jewish Federation has been integral in advocating for a new security personnel grant that has just been announced for non-profits in NJ. This is one example of how the Jewish Federation has responded aggressively to address issues concerning our community, and where we are in a unique position to make a difference.
3) We also have taken the lead in building bridges between our community and Israel. In addition to our philanthropy efforts helping vulnerable Jews in Israel especially special needs and youth at risk populations we also recognize that there is a growing divide with Israel, which leads to increasing miscommunication and misunderstandings. We have expanded efforts to engage leaders and influencers in our community to educate them about the challenges Israel faces and counter attacks on Israel's legitimacy. We just returned from an absolutely amazing Interfaith Clergy Journey to Israel with 14 Christian clergy, 2 Muslim clergy and 4 rabbis. Several of our community's legislators are in Israel now on a special program we are sponsoring for NJ state leadership. And we are organizing an amazing community Journey to the Four Corners of Israel this October, as well as an exciting array of educational and celebration program in conjunction with Israel's 70th Birthday. We hope you can participate in one or more of these programs, and they reflect another example of how the Jewish Federation steps up to respond to challenges and crises affecting our Jewish community.
With that, some reads for the weekend:
And before I sign off, I encourage you to see Ragtime at the Axelrod Theater in the next week or two timely subjects and a great production. Also check out Michelle Citrin at Temple Rodeph Torah on Sunday, March 25th. She produces a lot of sound from a tiny body and her music rocks! Check this stuff out on our Community Calendar, www.jewishheartnj.org/calendar
Best for a Shabbat Shalom and a good Rosh Chodesh!
Keith